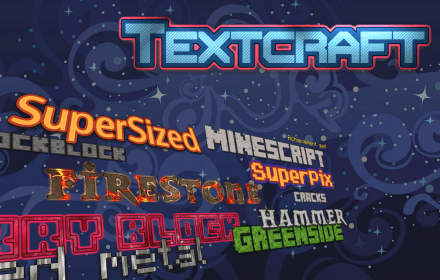 Textcraft (https://textcraft.net) is a modern, easy to use but powerful text and logo creator.
Currently it features Minecraft and 8-bit style fonts, and a number of options such as coloured borders, drop shadow, 3d perspective, glow effect etc.
Textcraft is designed to be used across multiple platforms – it's compatible with iPad and Android tablets as well as desktop/touchscreen/Chromebooks.
Choose from a range of existing text styles on the site, or create new styles and save them to your own profile page (free membership). A built-in style search function and Newest and Most Popular lists means that you can easily find something interesting to suit your needs.
Features:
High quality, fast, easy to use online text and logo creation engine
Versatile settings including drop-shadow, coloured borders, glow and 3d-style perspective
Includes Minecraft and 8-bit style texture and font options as well as general purpose text
Generated images use PNG alpha transparency to blend seamlessly into any background
Download created images directly or host online
Create a free account to save your text style settings or browse and search popular styles
Works perfectly on low powered computers – all you need is a web browser and Internet
Web-app designed as both iPad/Android tablet and desktop/touchscreen compatible
No popups or spammy downloads
100% free to use